A local viewport
clip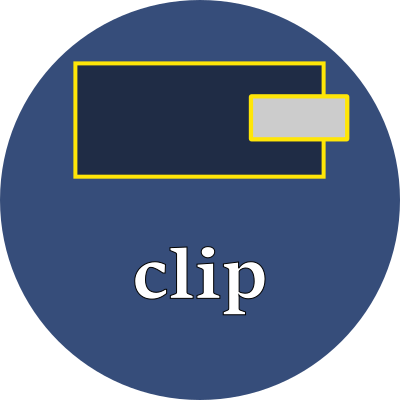 Limit the viewable portion of an element by drawing a rectangle around an inside portion of it and discarding the rest.
Property values
This property expects one value, a rectangle that specifies the top, right, bottom, and left edges of the area to keep. Use the function rect(top right bottom left) to specify this area.
This property in only meaningful on elements that also have the property position:absolute or position:fixed.
Units
Use any of these font-relative typographic units to for the top, right, bottom, and left edges:
| | | |
| --- | --- | --- |
| em | em | The font-size of the current font |
| rem | relative em | The font-size of the <html> element |
| lh | line height | The line-height of the current font |
| rlh | relative line height | The line-height of the <html> element |
| cap | cap height | The nominal height of the current font's capital letters |
| ex | "x" | The height of the current font's "x" glyph |
| ch | "0" | The advance measure (the width) of the current font's "0" glyph |
| ic | ideograph count | The advance measure (the width) of the current font's "水" ideograph |
Or use any of these fixed size units which are independent of the current font:
| | | |
| --- | --- | --- |
| % | percent | A percentage of the parent element's height/width |
| in | inch | A size equal 96px |
| px | pixels | A size equal to 1/96 inch |
| pt | point | A size equal 1in/72 = 1.33px |
| pc | pica | A size equal 1in/6 = 12pt = 16px |
| cm | centimeter | A size equal to 96px/2.54 = 37.8px |
| mm | millimeter | A size equal to 96px/25.4 = 3.8px |
| Q | quarter millimeter | A size equal to 96px/1016 = 0.94px |
Examples